The Division of Fine and Performing Arts
of
BIRMINGHAM-SOUTHERN COLLEGE
presents
<![if !vml]>

<![endif]>
<![if !supportEmptyParas]> <![endif]>
with the
Winners of the Frances
and Dorsey Whittington
Competition
<![if !supportEmptyParas]> <![endif]>
<![if !vml]>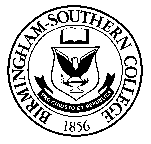 <![endif]>
<![if !supportEmptyParas]> <![endif]>
Hill Hall
Birmingham-Southern College
Sunday afternoon, 3:00 pm
February 16, 2003
<![if !supportEmptyParas]> <![endif]>
<![if !supportEmptyParas]> <![endif]>
The Red Mountain Chamber Orchestra
The Red Mountain Chamber Orchestra exists to educate and give pleasure to the public by performing a repertoire of classical music not otherwise heard in Birmingham, as well as to provide a musical outlet for skilled players, conductors, and soloists, both professional and amateur, in the community.  Because of our chamber orchestra size, we are able to move about the area, playing in different venues each season, thereby reaching a more diverse audience and addressing ourselves more clearly to the needs and interests of the community.  Although completely independent as to policies, the RMCO has for about a decade rehearsed and performed at Birmingham-Southern College.  We are proud to be an adjunct of BSC's Division of Fine and Performing Arts.
Founded 22 years ago, with the first concert on November 2, 1980, the orchestra has always been based in Birmingham, although some of the players come in from outlying communities and we perform at least once a season outside the city.  With ages ranging from 15 to 80, the most veteran of us played in the Birmingham Civic Symphony, the youngest are students.  All of us are bound together by a passion that leads us to work on concert materials well before rehearsals for the sake of the music. Although we include many physicians, a dentist, a physics professor, and several band teachers, most of us studied our instruments seriously in university music departments and at conservatories before finding other sources of daily income.  
We exist as a musical force because of the support of many who like what we do.  We would like to take this opportunity to thank those who have, over the years, given us the tools we needed to survive and flourish:  Birmingham-Southern College, now the sheltering organization for the RMCO, Samford University, and the Unitarian Church, all of whom have given the orchestra a home base across the years for rehearsals and performances;  the Alabama State Council on the Arts, the Birmingham Regional Arts Council, and the private donors who have provided financial support;  area churches, libraries, and schools who have allowed us rehearsal and performance space, especially the Birmingham Botanical Gardens and the Birmingham Museum of Art;  and all of the conductors, soloists, and players who have given freely of their time and talents to work with this orchestra - and to you our supporters, whose help makes all of these performances possible. 
RMCO is honored to participate in this third annual presentation of the Winners of Whittington Competition at Birmingham-Southern College, which provides for BSC undergraduate music majors, chosen in a preliminary competition, the opportunity to perform concertos and arias with orchestra.  The competition is named for Frances and Dorsey Whittington, whose profound influence as teachers became the musical foundation for generations of Birmingham musicians.  The Birmingham Conservatory of Music –  now the Music Department at Birmingham-Southern College – was for many years under their leadership.
Thanks to the Fine Arts Council of Birmingham-Southern College for the reception in the Blue Room following the performance.
<![if !supportEmptyParas]> <![endif]>
Thomas Gibbs, Conductor
Program
Concerto in G Major,                                                                         Maurice Ravel
          for Piano and Orchestra                                                                     1875-1937
                    I. Allegramente                 
Kathryn Elizabeth Smith, Piano
<![if !supportEmptyParas]> <![endif]>
Symphony No. 44, in E Minor ("Mourning")           Joseph Haydn
                    Allegro con brio                                                                                1732-1809
                    Menuetto; Trio
                    Adagio
                    Presto
~~~   Intermission   ~~~
Introduction, Theme, and Variations,                 Gioacchino Rossini
          for Clarinet and Orchestra                                                        1792-1868
Nicole Aris Selvidge, Clarinet
<![if !supportEmptyParas]> <![endif]>
Il mio tesoro                                                         Wolfgang Amadeus Mozart
                    from Don Giovanni                                                                 1756-1791
Weston Don Parker, Tenor
<![if !supportEmptyParas]> <![endif]>
Piano Concerto No. 3, in C minor, Op.37
                    III. Rondo: Allegro                                 Ludwig van Beethoven
                                                                                                                                                1770-1827
Myron D. Brown, Piano
<![if !supportEmptyParas]> <![endif]>
Please join us in the Blue Room
for a reception following the concert.
<![if !supportEmptyParas]> <![endif]>
Haydn – Symphony # 44 in E minor - Trauersinfonie
<![if !supportEmptyParas]> <![endif]>
Some seventeen of Haydn's symphonies date from the early 1770s, years in which the form well and truly reached maturity in his hands.  It was also the period in which a new profundity and tragic seriousness entered his music and that of his contemporaries.  This symphony's nickname – Trauersinfonie or 'Mourning Symphony' – seems for once to have been Haydn's own, and it is reported that he later requested that its slow movement be played at his funeral.  There is no attempt at a funeral march in the symphony as such though, and the mourning conveys more a sense of the anger of loss than quiet contemplation.
<![if !supportEmptyParas]> <![endif]>
The tense opening movement sums up Haydn's Sturm und Drang style with its fierce contrasts of dynamics, urgent 16th note passages and, towards the end, a brief passage combining contrapuntal imitation with tonality-destabilizing chromaticism.
<![if !supportEmptyParas]> <![endif]>
Counterpoint is again to the fore in the Minuet, a strict canon between upper and lower strings.  The brighter mood of the major-key trio prepares the way for the Adagio, a movement which provides the calm contemplation lacking in the first movement.  The finale is one of Haydn's most remarkable, a movement brimming with nervous energy that is the embodiment of 'storm and stress'.
<![if !supportEmptyParas]> <![endif]>
<![if !supportEmptyParas]> <![endif]>
Did you enjoy today's program?
Contributions are much needed by the Red Mountaineers for the purchase/rental of music and other expenses.  A cash contribution would be appreciated.  If you have questions, call Suzanne Beaudry at 254-3774.  We qualify as a non-profit organization under Chapter 401-C.
Please visit our web site at http://www.rmco.org/
Please sign our registration book in the foyer so that we may keep you informed of future RMCO concerts.  Thanks.
<![if !supportEmptyParas]> <![endif]>
<![if !supportEmptyParas]> <![endif]>
THE RED MOUNTAIN CHAMBER ORCHESTRA PLAYERS
First Violin

Gwen Knowlton

               Concertmaster

Leslie Cheng

James Farley

Kimberly Ferguson

Dawn Grant

Heidi Kapanka

William Neumeier

Godehard Oepen

Second Violin

Katrina Choate

               Principal

Ilene Brill

Jodi Haskins

Larry Kallus

David Sherman

Charles Tharp

Viola

Suzanne Beaudry

               Principal

Joanna Bosko

Karen Eastman

Marilyn Pipkin

Cello

Jackie McKinney

               Principal

Eve Fingerett

Daniel Hallmark

Carol Leitner

Dorinda Smith

Diedre Vaughn

Double Bass

Steve Lewis

               Principal

<![if !supportEmptyParas]> <![endif]>

<![if !supportEmptyParas]> <![endif]>

Flute

David Agresti

Peggy Brooks

Piccolo

Peggy Brooks

Oboe

Lisa Buck

Brian Van Tine

English Horn

Lisa Buck

Clarinet

Ron Peters

Barry Jackson

Bassoon

Jeremy Arthur

Richard Murry

Horn

Ginny Carroll

Robin Clemow

Trumpet

Paul Morton

Dennis Carroll

Trombone

Robert Black

Percussion

Allen Higdon

Dennis Carroll

Timpani

Danielle Brooks

Harp

Ellen Stanton
<![if !supportEmptyParas]> <![endif]>
<![if !supportEmptyParas]> <![endif]>
<![if !supportEmptyParas]> <![endif]>
<![if !supportEmptyParas]> <![endif]>
RMCO Administration & Board
President  Suzanne Beaudry

Vice President  Barry Jackson

Recording Secretary  Peggy Brooks

Corresponding Secretary

               Gwen Knowlton

Treasurer  Kendall Holman

Librarian  Kimberly Ferguson

Programs  David Agresti

Historian  Rita Salzberg

Founder  Robert Markush

Consultants 

               Leslie Fillmer,

               Oliver Roosevelt

Stage Managers, Web Masters 

               Charles Tharp, Daniel Hallmark

Personnel 

               Winds   John Greer

               Strings  Godehard Oepen

Members-at-Large 

               Linda Mahan, Heidi Kapanka
<![if !supportEmptyParas]> <![endif]>
<![if !supportEmptyParas]> <![endif]>
Today's Conductor
Thomas Gibbs has been a member of Birmingham-Southern's faculty of music since 1970, teaching a wide variety of courses in music history, music literature, church music, and conducting.  He also served for eight years as chair of Birmingham-Southern's Division of Fine and Performing Arts. 
At Birmingham-Southern Dr. Gibbs has conducted more than fifteen productions for the Opera Workshop and the College Theatre, most recently the world premiere of Daphne at Sea, by Charles Norman Mason and Sally Gall. His experience in opera also includes extensive work for Opera Memphis, Birmingham Civic Opera, and Cincinnati Opera.  He was Birmingham Summerfest's first music director, conducting some twenty-five Summerfest musical productions.
Dr. Gibbs served for ten years as the conductor of the Birmingham Concert Chorale and choral director for the Alabama Symphony Orchestra.  As Master of the Cathedral Choir at Birmingham's Episcopal Cathedral of the Advent, Dr. Gibbs led the Choir in performances of major church works, oratorios, masses, and a number of newly commissioned compositions.  He also conducted the Choir in three performing tours of England.  He is currently serving as organist and choirmaster at Grace Episcopal Church, Woodlawn.
Dr. Gibbs is active as a choral clinician, adjudicator, and conducting teacher, and he appears regularly as a conductor of the Red Mountain Chamber Orchestra.
<![if !supportEmptyParas]> <![endif]>
Today's Soloists
            KATY SMITH is from Hebron, Maryland.  She began piano study at the age of 7.  At Birmingham-Southern she is a junior majoring in music, and she plans to pursue a career in arts administration. At Birmingham-Southern she has studied with William DeVan, and she currently  is a student of Ellen Tweiten. During the January Interim Term, 2003, she participated in a three-week service-learning project at St. Aloysius School in Harlem, New York City.
            NICOLE SELVIDGE is a third-year candidate for the Bachelor of Music degree in Clarinet Performance at Birmingham-Southern College, where she holds an Instrumental Music Scholarship and a Presidential Honors Scholarship. She currently studies with Judith Donaldson of the Alabama Symphony Orchestra and has participated in master classes with Edwin Riley, formerly of the Columbus Symphony Orchestra.  This is her first performance as a soloist with the Red Mountain Chamber Orchestra, and she is grateful to the musicians of the orchestra for this opportunity.  She would also like to thank her family and friends, her teacher, and the music faculty at Birmingham-Southern for their support.
            WES PARKER is from Hartselle, Alabama. He began his collegiate studies in music at The University of Missippi and continued at Alabama's Calhoun Community College where he was a student of Samuel Timberlake. He has also studied with Cynthia Linton and Pam Miller. Now in his second term at Birmingham-Southern College, Wes majors in Vocal Performance and studies voice with David Smith. He has been active in community musical theatre productions, sang in Carnegie Hall while still a high school student, and has been a state finalist in the National Association of Teachers of Singing competition.  He plans to pursue a career in opera and musical theatre.
            MYRON D. BROWN is from Birmingham and a sophomore majoring in Piano Performance. Now a student of William DeVan, he previously studied with Nancy Wingard at the Birmingham-Southern College Conservatory of Fine and Performing Arts. He is a four-time recipient of the Conservatory's Hugh Thomas Scholarship, and he currently holds the Sarah and Robert Flemister Scholarship at BSC
<![if !supportEmptyParas]> <![endif]>
2002-2003  -  23nd Season of the RMCO - www.rmco.org
October 20,  5:00 pm,  Fall Concert, in the Sanctuary,
Bluff Park United Methodist Church  (bpumc.org; 822-0910)
Robert Wright of the University of Montevallo conducting
Schubert - Overture to Rosamunde D 644
Mozart - Clarinet Concerto K 622 in A Major,
Lori Neprud-Ardovino, Clarinet Soloist
Gounod - Symphony #1 in D Major
November 24,  3:00 pm, Fall Concert
Homewood Public Library  (homewood.lib.al.us; 877-8661)
Howard Goldstein, of Auburn University conducting
Ravel - Pavanne pour une infante défunte
Fauré - Masques et Bergamasques, Op. 112
Mozart - Symphonia Concertante in Eb Major, K. 364,
Dawn Grant, Violin;  Godehard Oepen, Viola
February 16,  3:00 pm, Whittington Competition Winners
Hill Hall, Birmingham-Southern College  (bsc.edu; 226-4950)
Thomas Gibbs of Birmingham-Southern conducting
Dorsey Whittington Concerto/Aria Competition winners
will perform as soloists with the orchestra
April 6,  3:00 pm, A "Suite" Concert,  at St. Stephens
Episcopal Church (bham.net/st_stephen; 967-8786)
Todd Norton of Jefferson State College conducting
Grieg - Holberg Suite
Handel - Water Music
Respighi - Ancient Airs and Dances
May 11,  3:00 pm, Mother's Day concert,  in the Ireland Room,
Birmingham Botanical Gardens  (bbgardens.org; 414-3961)
Music for small groups, by the Red Mountain Chamber Players
June 22,  3:00 pm, "Summer Solstice," in the Steiner Auditorium
Birmingham Museum of Art  (artsbma.org; 254-2571)
Music for small groups, by the Red Mountain Chamber Players
<![if !supportEmptyParas]> <![endif]>
---   As always, admission is free   ---