The Division of Fine and Performing Arts
of
BIRMINGHAM-SOUTHERN COLLEGE
<![if !supportEmptyParas]> <![endif]>
presents
<![if !vml]>

<![endif]>
<![if !supportEmptyParas]> <![endif]>
performing
Fall Concert
<![if !supportEmptyParas]> <![endif]>
<![if !vml]>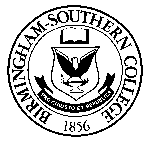 <![endif]>
The Sanctuary
Bluff Park United Methodist Church
Sunday afternoon, 5:00 pm
October 20, 2002
<![if !supportEmptyParas]> <![endif]>
The Red Mountain Chamber Orchestra
The Red Mountain Chamber Orchestra exists to educate and give pleasure to the public by performing a repertoire of classical music not otherwise heard in Birmingham, as well as to provide a musical outlet for skilled players, conductors, and soloists, both professional and amateur, in the community.  Because of our chamber orchestra size, we are able to move about the area, playing in different venues each season, thereby reaching a more diverse audience and addressing ourselves more clearly to the needs and interests of the community.  Although completely independent as to policies, the RMCO has for about a decade rehearsed and performed at Birmingham-Southern College.  We are proud to be an adjunct of BSC's Division of Fine and Performing Arts.
Founded 22 years ago, with the first concert on November 2, 1980, the orchestra has always been based in Birmingham, although some of the players come in from outlying communities and we perform at least once a season outside the city.  With ages ranging from 15 to 80, the most veteran of us played in the Birmingham Civic Symphony, and the youngest are students.  All of us are bound together by a passion that leads us to work on concert materials well before rehearsals for the sake of the music. Although we include many physicians, a dentist, a physics professor, and several band teachers, most of us studied our instruments seriously in university music departments and at conservatories before finding other sources of daily income.  
We exist as a musical force because of the support of many who like what we do.  We would like to take this opportunity to thank those who have, over the years, given us the tools we needed to survive and flourish:  Birmingham-Southern College, Samford University, and the Unitarian Church, all of whom have given the orchestra a home base across the years for rehearsals and performances;  the Alabama State Council on the Arts, the Birmingham Regional Arts Commission, and the private donors who have provided financial support; area churches, libraries, and schools who have allowed us rehearsal and performance space, especially the Birmingham Botanical Gardens and the Birmingham Museum of Art;  and all of the conductors, soloists, and players who have given freely of their time and talents to work with this orchestra.
<![if !supportEmptyParas]> <![endif]>
<![if !supportEmptyParas]> <![endif]>
<![if !vml]> <![endif]>
<![if !supportEmptyParas]> <![endif]>
Robert Wright, Conductor
Overture to Rosamunde, D 644                             Franz Schubert
            Andante                                                                1797-1828
            Allegro vivace
Concerto for Clarinet in A Major, K 622     Wolfgang A. Mozart
            Allegro                                                                  1756-1791
            Adagio
            Rondo: Allegro
Clarinet Soloist, Lori Neprud-Ardovino
Intermission
Symphony No. 1 in D Major                         Charles Gounod
            Allegro molto                                                        1818-1893
            Allegretto moderato
            Scherzo: Non troppo presto
            Adagio; Allegro vivace
<![if !supportEmptyParas]> <![endif]>
<![if !supportEmptyParas]> <![endif]>
<![if !supportEmptyParas]> <![endif]>
The RMCO wishes to thank the Bluff Park United Methodist Church and Reverend Reid Crotty for their gracious assistance with publicity, rehearsal and performance space for this concert.
Please sign our registration book in the foyer so that we may keep you informed of future RMCO concerts.  And check out our web site at http://www.rmco.org/.  Thanks.
<![if !supportEmptyParas]> <![endif]>
<![if !supportEmptyParas]> <![endif]>
Rosamunde: Overture, D. 64 – Franz Schubert
      During little more than 15 years Schubert produced an amount of music that has scarcely been equaled even by composers who lived to a ripe old age.  The period, up to about 1818, which saw him making audacious experiments in tonality and harmony within a basically Classical framework, is characterized by unselfconscious vitality. But as he reached his twenties he seems to have realized that his genius demanded something more of him than he had so far achieved and the next few years found him, in every respect, much more self-critical.  He gained recognition as a result of the publication of his songs and the singspiel Die Zwillingsbrüder and the melodrama Die Zauberharfe.
      The work now known as the Rosamunde overture has a complicated history.  Its origins go back to the D major Overture "in the Italian style", of 1817, which was written during the height of the Rossini craze in Vienna; when composing the music for Die Zauberharfe in 1820, Schubert modified the Adagio introduction and the Vivace code of this earlier work for use in his new (C major) overture.  The melodrama was a failure and only survived a few performances, but the charming overture was well received by the public.  In 1827 Schubert published it, together with a selection from the incidental music to the play Rosamunde of 1823 as op. 26, and since then it has become generally known as the overture to Rosamunde.  This is its only connection to the play, however.
Notes by Robert Wright
<![if !supportEmptyParas]> <![endif]>
Clarinet Concerto in A - Wolfgang A. Mozart
      Mozart's love of the clarinet began when he was a boy of seven.  As a touring prodigy, he first heard the instrument in the Mannheim Orchestra, then in London and Paris.  Today's concerto was written for his friend, the virtuoso Anton Stadler, a member of the Imperial Court Orchestra and fellow Freemason.  It was the last major work from Mozart's pen before his death.
      A week after The Magic Flute premiered he wrote his wife that he had orchestrated the concerto.
<![if !supportEmptyParas]> <![endif]>
The orchestral introduction opens with a gently caressing theme in the strings.  The clarinet solo sections all begin on a dynamic and pitch level that brings out the almost velvety, sensuous tone of the instrument.  When the solo clarinet takes up the theme the effect is gentler.  Touches of melancholy are never far away, even in the sunniest moments of the lively first and third movements.
The slow movement opens with a melody that must be one of the most beautiful ever written.  It is sung by the solo clarinet without any orchestral introduction.  It is hard to believe this seraphic melody is based on one of the most popular cliches of 18th century classicism – a phrase used perhaps hundreds of times, by Mozart's contemporaries, but never with this unexplainable magic.
Notes by Oliver Roosevelt
<![if !supportEmptyParas]> <![endif]>
Symphony No. 1 in D (1855) – Charles Gounod
      In his mid-thirties, Gounod wrote two symphonies that a highly inventive and blessedly light of touch.  Things had not been going well for him.  His second opera had failed and he was thrown into turmoil.  He sought comfort in St. Augustine and contemplated the religious life. Then he cheered up and wrote an Andante and a Scherzo which were performed at a Paris concert in 1855.  Encouraged by the welcome they received, he added two more movements to create a full symphony, which, given a month later, was equally well received.  Gounod seemed to revel in the enjoyment of writing music simply to please himself and the result is entirely charming.
      The original Scherzo, now the third movement, looks to Haydn for its brisk good humor, although the main influence suggests Schumann. The orchestration sparkles and includes some enchanting passages for the winds, together with a fugue that is remarkably well worked out.
Notes by Robert Wright
Our Conductor
      Dr. ROBERT WRIGHT is Coordinator of Vocal and Choral Music at the University of Montevallo.  A native of Bessemer, he holds degrees from Samford University, the University of South Florida, and the University of Miami.  He has been a highly successful choral director in Alabama, Florida, South Dakota, and Tennessee, and was for several seasons the Associate Conductor of the Tech Community Symphony Orchestra in Cookeville, Tennessee.  Dr. Wright returned in 1996 to the Birmingham area after fourteen years as Director of Vocal Activities at Tennessee Technological University, where his choir performed to critical acclaim at state, regional, and national music conventions. 
      Dr. Wright is active as a singer and conductor and is a member of the American Choral Directors Association and Music Educators National Conference as well as the Alabama Music Educators Association and Alabama Vocal Association.  This is his fifth concert with the RMCO.
Our Soloist
      Dr. LORI ARDOVINO is Associate Professor at the University of Montevallo, where she teaches clarinet, saxophone, music history, woodwind pedagogy, and is Director of Music Graduate Studies.  She performs with the Faculty Woodwind Quintet, the Cahaba Saxophone Quartet, and is called upon to play with such groups as the Alabama and Tuscaloosa Symphony Orchestras and various pick-up ensembles.  She is an active clinician, recitalist, and adjudicator throughout the Southeast.  Dr. Ardovino received her degrees from The Conservatory of Music, University of Cincinnati, Michigan State, and Moorhead State University.  Dr. Ardovino is an Artist/Clinician for the G. Leblanc Corporation.
<![if !supportEmptyParas]> <![endif]>
Did you enjoy today's program?
Contributions are much needed by the Red Mountaineers for the purchase/rental of music and other expenses.  A cash contribution would be appreciated.  If you have questions, call Suzanne Beaudry at 254-3774.  We qualify as a non-profit organization under Chapter 401-C.
<![if !supportEmptyParas]> <![endif]>
 THE RED MOUNTAIN CHAMBER ORCHESTRA PLAYERS
First Violin

Gwen Knowlton

        Concertmaster

Leslie Cheng

Katrine Choate

James Farley

Kimberly Ferguson

Jody Haskins

Heidi Kapanka

Willian Neumeier

Second Violin

Dawn Grant

        Principal

Ilene Brill

Larry Kallus

Linda Mahan

David Sherman

Susan Spaulding

Charles Tharp

Viola

Suzanne Beaudry

        Principal

Joanna Bosko

Marilyn Pipkin

Cello

Jackie McKinney

        Principal

Daniel Hallmark

Carol Leitner

Dorinda Smith

Diedre Vaughn

Double Bass

Kendall Holman

        Principal

Steve Lewis

Mike Mahan

<![if !supportEmptyParas]> <![endif]>

Flute

David Agresti

Don Gilliland

Oboe

Lisa Buck

Brian Van Tine

Clarinet

Ron Peters

Nicole Selvidge

Bassoon

Jeremy Arthur

Richard Murry

Horn

Ginny Carroll

Julie McIntee

Robin Clemow

Wendy Marsh-Tootle

Trumpet

Dennis Carroll

Paul Morton

Trombone

Alan Brooks

Timpani

Danielle Brown
<![if !supportEmptyParas]> <![endif]>
<![if !supportEmptyParas]> <![endif]>
<![if !supportEmptyParas]> <![endif]>
<![if !supportEmptyParas]> <![endif]>
The Red Mountain Chamber Orchestra Administration & Board
President  Suzanne Beaudry

Vice President  Barry Jackson

Recording Secretary  Ilene Brill

Corresponding Secretary

        Gwen Knowlton

Treasurer  Kendall Holman

Librarian  Kimberly Ferguson

Programs  David Agresti

Founder  Robert Markush

Consultants 

        Leslie Fillmer,

        Oliver Roosevelt

Stage Managers, Web Masters

        Charles Tharp,

        Daniel Hallmark

Members-at-Large 

        Linda Mahan,

        Heidi Kapanka
<![if !supportEmptyParas]> <![endif]>
2002-2003  -  23nd Season of the RMCO - www.rmco.org
October 20,  5:00 pm,  Fall Concert, in the Sanctuary,
      Bluff Park United Methodist Church  (bpumc.org; 822-0910)
Robert Wright of the University of Montevallo conducting
Schubert - Overture to Rosamunde D 644
Mozart - Clarinet Concerto K 622 in A Major,
      Lori Neprud-Ardovino, Clarinet Soloist
Gounod - Symphony #1 in D Major
November 24,  3:00 pm, Fall Concert
      Homewood Public Library  (homewood.lib.al.us; 877-8661)
Howard Goldstein, of Auburn University conducting
Delius - Two Pieces for Small Orchestra
Mozart - Symphonia Concertante K 320d in Eb Major,
      Dawn Grant, Violin;  Godehard Oepen, Viola
Fauré - Masques et Bergamasques, Op. 112
February 16,  3:00 pm, Whittington Competition Winners
      Hill Hall, Birmingham-Southern College  (bsc.edu; 226-4950)
Thomas Gibbs of Birmingham-Southern conducting
Dorsey Whittington Concerto/Aria Competition winners
      will perform as soloists with the orchestra
April 6,  3:00 pm, A "Suite" Concert,  at St. Stephens
      Episcopal Church (bham.net/st_stephen; 967-8786)
Todd Norton of Jefferson State College conducting
Grieg - Holberg Suite
Handel - Water Music
Respighi - Ancient Airs and Dances
May 11,  3:00 pm, Mother's Day concert,  in the Ireland Room,
      Birmingham Botanical Gardens  (bbgardens.org; 414-3961)
Music for small groups, by the Red Mountain Chamber Players
June 22,  3:00 pm, "Summer Solstice," in the Steiner Auditorium
Birmingham Museum of Art  (artsbma.org; 254-2571)
Music for small groups, by the Red Mountain Chamber Players
---   As always, admission is free   ---  
<![if !supportEmptyParas]> <![endif]>