2001-2002  -  22nd Season of the RMCO
October 21,  3:00 pm, Fall Concert
      Sanctuary, Canterbury Methodist Church (871-4695)
Peter Warlock - Capriol Suite for strings
Mozart - Symphony #29 in A Major, K 201
Wanhal - Viola Concerto in F Major, with Michael Kimber
Robert Wright of the University of Montevallo, conducting
December 4,  5:30 pm, Christmas Tree Lighting Ceremony
      Linn Park, Birmingham City Center
Leroy Anderson - Sleigh Ride
Vaughan Williams - Fantasia on Greensleeves
Niels Gade - Christmas Suite
Todd Norton of Jefferson State Community College, conducting
February 17, 3:00 pm, Whittington Competition Winners
      Hill Hall, Birmingham-Southern College
The competition winners will solo with the orchestra.
Thomas Gibbs of Birmingham Southern College, conducting
April 28, 3:00 pm, Spring Concert
Hueytown Methodist Church, 110 Sunset Drive, 491-3421
Handel - Concerto Grosso Opus 6, No. 11
Dvořák - Czech Suite
Howard Goldstein of Auburn University, conducting
May 12,  3:00 pm, Mother's Day Concert
      Ireland Room, Birmingham Botanical Gardens
A concert of small ensemble works
June 23,  3:00 pm, Summer Solstice
Steiner Auditorium, Birmingham Museum of Art
A concert of small ensemble works
<![if !supportEmptyParas]> <![endif]>
---   As always, admission is free   ---  
<![if !supportEmptyParas]> <![endif]>
Please sign our registration book in the foyer so that we
may keep you informed of future RMCO concerts.  Thanks.
The Division of Fine and Performing Arts
of
BIRMINGHAM-SOUTHERN COLLEGE
presents
<![if !vml]> <![endif]>
<![if !supportEmptyParas]> <![endif]>
with the
Winners of the Frances
and Dorsey Whittington
Competition
<![if !supportEmptyParas]> <![endif]>
<![if !vml]>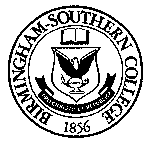 <![endif]>
<![if !supportEmptyParas]> <![endif]>
Hill Hall
Birmingham-Southern College
Sunday afternoon, 3:00 pm
February 17, 2002
The Red Mountain Chamber Orchestra
The Red Mountain Chamber Orchestra exists to educate and give pleasure to the public by performing a repertoire of classical music not otherwise heard in Birmingham, as well as to provide a musical outlet for skilled players, conductors, and soloists, both professional and amateur, in the community.  Because of our chamber orchestra size, we are able to move about the area, playing in different venues each season, thereby reaching a more diverse audience and addressing ourselves more clearly to the needs and interests of the community.  Although completely independent as to policies, the RMCO has for about a decade rehearsed and performed at Birmingham-Southern College.  We are proud to be an adjunct of BSC's Division of Fine and Performing Arts.
Founded 21 years ago, with the first concert on November 2, 1980, the orchestra has always been based in Birmingham, although some of the players come in from outlying communities and we perform at least once a season outside the city.  With ages ranging from 15 to 80, the most veteran of us played in the Birmingham Civic Symphony, the youngest are students.  All of us are bound together by a passion that leads us to work on concert materials well before rehearsals for the sake of the music. Although we include many physicians, a dentist, a physics professor, and several band teachers, most of us studied our instruments seriously in university music departments and at conservatories before finding other sources of daily income.  
We exist as a musical force because of the support of many who like what we do.  We would like to take this opportunity to thank those who have, over the years, given us the tools we needed to survive and flourish:  Birmingham-Southern College, Samford University, and the Unitarian Church, all of whom have given the orchestra a home base across the years for rehearsals and performances;  the Alabama State Council on the Arts, the Birmingham Regional Arts Council, and the private donors who have provided financial support;  area churches, libraries, and schools who have allowed us rehearsal and performance space, especially the Birmingham Botanical Gardens and the Birmingham Museum of Art;  and all of the conductors, soloists, and players who have given freely of their time and talents to work with this orchestra - and to you our supporters, whose help makes all of these performances possible.  Birmingham-Southern College is now the sheltering organization for the RMCO.
RMCO is honored to participate in this second annual presentation of the Winners of Whittington Competition at Birmingham-Southern College, which provides for BSC undergraduate music majors, chosen in a preliminary competition, the opportunity to perform concertos and arias with orchestra.  The competition is named for Frances and Dorsey Whittington, whose profound influence as teachers became the musical foundation for generations of Birmingham musicians.  The Birmingham Conservatory of Music –  now the Music Department at Birmingham-Southern College – was for many years under their leadership.
Thanks to the Fine Arts Council of Birmingham-Southern College for the reception in the Blue Room following the performance and to members of the Alabama Symphony Orchestra who have joined us for this concert.
THE RED MOUNTAIN CHAMBER ORCHESTRA PLAYERS
First Violin

Gwen Knowlton

        Concertmaster

Kimberly Ferguson

Heidi Kapanka

Godehard Oepen

*Anne Pandolfy

*Olga Shptko

Second Violin

*Jim Pipkin

        Principal

Katie Cruce

Dawn Grant

David Sherman

Charles Tharp

Viola

Suzanne Beaudry

*ASO Member

Cello

Jackie McKinney

        Principal

Daniel Hallmark

Carol Leitner

Dorinda Smith

Diedre Vaughn

Double Bass

Kendall Holman

        Principal

*Michael Bradt

Harpsichord

Suzanne Beaudry

Flute

David Agresti

Don Gilliland

Piccolo

Don Gilliland

Oboe

Lisa Buck

Brian Van Tine

Clarinet

Ron Peters

Barry Jackson

Bassoon

Kevin Chancellor

Kristin Timm

Horn

John Greer

Ginny Carroll

Trumpet

Paul Morton

Dennis Carroll

Trombone

Alan Brooks
<![if !supportEmptyParas]> <![endif]>
<![if !supportEmptyParas]> <![endif]>
RMCO Administration & Board
President  Suzanne Beaudry

Vice President  Barry Jackson

Recording Secretary  Peggy Brooks

Corresponding Secretary

        Gwen Knowlton

Treasurer  Kendall Holman

Librarian  Kimberly Ferguson

Programs  David Agresti

Historian  Rita Salzberg

Founder  Robert Markush

Consultants 

        Leslie Fillmer,

        Oliver Roosevelt

Stage Managers, Web Masters 

        Charles Tharp, Daniel Hallmark

Personnel 

        Winds   John Greer

        Strings  Godehard Oepen

Members-at-Large 

        Linda Mahan, Heidi Kapanka
<![if !supportEmptyParas]> <![endif]>
<![if !supportEmptyParas]> <![endif]>
Did you enjoy today's program?
Contributions are much needed by the Red Mountaineers for the purchase/rental of music and other expenses.  A cash contribution would be appreciated.  If you have questions, call Suzanne Beaudry at 254-3774.  We qualify as a non-profit organization under Chapter 401-C.
Please visit our web site at http://www.rmco.org/
Today's Conductor
<![if !vml]> <![endif]>
Thomas Gibbs has been a member of Birmingham-Southern's faculty of music since 1970, teaching a wide variety of courses in music history, music literature, church music, and conducting.  He also served for eight years as chair of Birmingham-Southern's Division of Fine and Performing Arts. 
At Birmingham-Southern Dr. Gibbs has conducted more than fifteen productions for the Opera Workshop and the College Theatre, most recently the world premiere of Daphne at Sea, by Charles Norman Mason and Sally Gall. His experience in opera also includes extensive work for Opera Memphis, Birmingham Civic Opera, and Cincinnati Opera.  He was Birmingham Summerfest's first music director, conducting some twenty-five Summerfest musical productions.
Dr. Gibbs served for ten years as the conductor of the Birmingham Concert Chorale and choral director for the Alabama Symphony Orchestra.  As Master of the Cathedral Choir at Birmingham's Episcopal Cathedral of the Advent, Dr. Gibbs led the Choir in performances of major church works, oratorios, masses, and a number of newly commissioned compositions.  He also conducted the Choir in three performing tours of England.  He is currently serving as organist and choirmaster at Grace Episcopal Church, Woodlawn.
Dr. Gibbs is active as a choral clinician, adjudicator, and conducting teacher, and he appears regularly as a conductor of the Red Mountain Chamber Orchestra.
Today's Soloists
        Joshua South is a senior Vocal Performance major from Birmingham.  He is the winner of the Birmingham Music Club Competition, Music Teachers National Association for the State of Alabama, and two-time winner of the regional NATS competition.  Mr. South is also the recipient of the Presser Music Scholar award, given to rising seniors.  He plans on attending graduate school in New York to pursue a professional career.
        Nat Gunter is a Junior, Vocal Performance Major from Tuscaloosa, Alabama.  He most recently won second place in the Alabama Federation of Music Clubs Competition.  Nat is also a two time state NATS winner.  This fall he received a KC/ACTF Irene Ryan Nomination for his work in Hamlet the Musical.  Nat studies with Dr. Leary-Warsaw.
        Daniel Seigel is a senior Theatre major from Birmingham.  Alongside his theatre productions he has pursued an increased interest in music at BSC.  This is his second Whittington appearance, and he will appear this May as Marcello in Puccini's La Boheme.  Daniel hopes to find some sort of career in opera or theatre.
        Myron D. Brown is from Birmingham and a freshman majoring in piano performance.  Now a student of William DeVan, he previously studied with Nancy Wingard at the BSC Conservatory of Fine and Performing Arts.  He is a four-time recipient of the Conservatory's Hugh Thomas Scholarship, and he currently holds the Sarah and Robert Flemister Scholarship at BSC.
Thomas Gibbs, Conductor
Program
Symphony No. 5, in B-flat Major                    Franz Schubert
          Allegro                                                     1797-1828
          Andante con moto
          Menuet - Trio
          Allegro vivace
~~~~~~~~~~~~~~~~~~~
Quia fecit mihi magnam,                     Johann Sebastian Bach
          from Magnificat                                        1685-1750
Ombra mai fu                                 George Frederick Handel
          from Xerxes                                              1685-1759
Joshua South, Baritone
<![if !supportEmptyParas]> <![endif]>
Non più andrai                            Wolfgang Amadeus Mozart
          from Le nozze di Figaro                            1756-1791
Nathanael Gunter, Baritone
<![if !supportEmptyParas]> <![endif]>
Votre toast, je peux vous le rendre                         Georges Bizet
          Toreador Song, from Carmen                     1838-1875
Daniel Seigel, Baritone
<![if !supportEmptyParas]> <![endif]>
Piano Concerto No. 3, in C minor      Ludwig van Beethoven
          Allegro                                                     1770-1827
Myron Brown, Pianist
<![if !supportEmptyParas]> <![endif]>
<![if !supportEmptyParas]> <![endif]>
Please join us in the Blue Room
for a reception following the concert
Schubert - Symphony No. 5, in B-Flat Major
        The Schubert work you hear this afternoon is sometimes called "The Symphony Without Trumpets and Drums" for obvious" reasons.  Schubert was only 19 when he penned it, but he was already a master of the form.
        When you leave Hill Hall, though, it will not be structure that will remain in your mind, but the graceful melodies in all four of its movements.  From the first theme, four whispered measures into the work, to the finale's Haydnesque, spontaneous, and joyful rondo tune, this is indelibly the product of the greatest melodist of all time.
        He wrote it for an orchestra even smaller than the Red Mountain Chamber Orchestra.  The group evolved from the string quartet that used to meet in Schubert's home.  Thus expanded, it was conducted by Otto Hatwig, a composer and violinist in the Burgtheater.  The premiere of the Fifth Symphony, at Hatwig's house, was the only performance Schubert heard of it.
        This music is far from that of Beethoven, his contemporary in Vienna.  Shortly before he started it, Schubert described Beethoven's influence as "that eccentricity which joins and confuses the tragic with the comic, the agreeable with the repulsive, heroism with howlings, and the holiest with harlequinades, without distinction, so as to goad people to madness instead of dissolving them in love, to incite them to laughter instead of lifting them to God."
<![if !supportEmptyParas]> <![endif]>
Notes by Oliver Roosevelt
<![if !supportEmptyParas]> <![endif]>
<![if !supportEmptyParas]> <![endif]>
<![if !supportEmptyParas]> <![endif]>
Beethoven - Piano Concerto No. 3 (Allegro)
        The key of this Concerto had a special significance for Beethoven: C minor was his key of "Sturm and Drang."  The opening movement of this Concerto has all the drama of the period.  Beethoven follows the tradition of presenting his thematic material in a long orchestral exposition before the solo piano is heard. 
        The principal theme, a bold figure built around the C-minor triad, opens the movement in the strings in an ominous whisper.  This is echoed in the woodwinds, then taken up by a full orchestral tutti with shifting harmonies.  A gracefully flowing second theme, hovering between major and minor, supplies the traditional contrast.  The piano enters alone with three furious C-minor scales leading up to a statement of the principal theme.  The last two notes of that theme and their sharp rhythm play a vital part in the development section and again in the coda.  There is a reprise of the opening themes, a cadenza for the solo piano and an imaginative coda, full of harmonic surprises.
<![if !supportEmptyParas]> <![endif]>
Song Texts (partial - see extra sheet for full text)
Quia fecit mihi magnam, from Magnificat
For he who is mighty has done great things to me; and holy is his name.
Ombra mai fu, from Xerxes
Tender and beautiful branches
Of my beloved plane tree,
For you fate brightly shines;
Thunder, lightning and storms
Never disturb your majestic calm,
Rapacious winds do not reach out to defile you!
Never was there a shadow
Of branches
Sweeter, more refreshing,
Or more gentle
Non più andrai, from Le nozze di Figaro 
Non più andrai, farfallone amoroso,               You won't go any more, amorous butterfly,
Notte e giorno d'intorno girando,            Fluttering around inside night and day,
Delle belle turbando il riposo,                 Disturbing the sleep of beauties,
Narcisetto, Adoncino d'amor.                 A little Narcissus and Adonis of love.
Non più avrai questi bei penacchini,             You won't have those fine feathers any more,
Quel cappello leggiero e galante,            That light and jaunty hat,
Quella chioma, quell'aria brillante,         That hair, that shining aspect,
Quel vermiglio donnesco color!               That womanish red color [in your face]!
Votre toast, je peux vous le rendre
(Toreador Song), from Carmen
Votre toast, je peux vous le rendre,                Your toast, I can give it to you
Senor, senors car avec les soldats           Sirs, sirs, for along with the soldiers
Oui, les Toreros, peuvent s'entendre;      Yes, the Toreros, can understand;
Pour plaisirs, pour plaisirs,                     For pleasures, for pleasures
Ils ont les combats!                                  They have combats!
Le cirque est plein, c'est jour de fete!      The arena is full, it is the feast day!
Le cirque est plein du haut en bas;          The arena is full, from top to bottom;
Les spectateurs, perdant la tete,             The spectators, losing their heads,
Les spectateurs s'interpellent                  The spectators began a big fracas!
Apostrophes, cris et tapage                     Apostrophes, cries, and uproar
Pousses jusques a la fureur!                    Grow to a furor!
Car c'est la fete du courage!                   Because it is a celebration of courage!
C'est la fete des gens de co                      It is the celebration of people with heart!
Allons! en garde! Allons! Allons! ah!        Let's go, on guard! Let's go! Let's go! Ah!
Toreador, en garde! Toreador, Toreador!       Toreador, on guard! Toreador, Toreador!