The Division of Fine and Performing Arts
of
BIRMINGHAM-SOUTHERN COLLEGE
<![if !supportEmptyParas]> <![endif]>
presents
<![if !vml]>

<![endif]>
performing
Spring Concert
<![if !supportEmptyParas]> <![endif]>
<![if !vml]>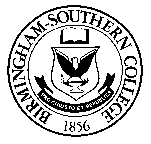 <![endif]>
<![if !supportEmptyParas]> <![endif]>
---
Heritage Sanctuary
Hueytown Methodist Church
110 Sunset Drive, Hueytown
Sunday Afternoon, 3:00 pm
April 28, 2002
<![if !supportEmptyParas]> <![endif]>
---------------------------------------------------------------
<![if !supportEmptyParas]> <![endif]>
The Red Mountain Chamber Orchestra
The Red Mountain Chamber Orchestra exists to educate and give pleasure to the public by performing a repertoire of classical music not otherwise heard in Birmingham, as well as to provide a musical outlet for skilled players, conductors, and soloists, both professional and amateur, in the community.  Because of our chamber orchestra size, we are able to move about the area, playing in different venues each season, thereby reaching a more diverse audience and addressing ourselves more clearly to the needs and interests of the community.  Although completely independent as to policies, the RMCO has for about a decade rehearsed and performed at Birmingham-Southern College.  We are proud to be an adjunct of BSC's Division of Fine and Performing Arts.
Founded 21 years ago, with the first concert on November 2, 1980, the orchestra has always been based in Birmingham, although some of the players come in from outlying communities and we perform at least once a season outside the city.  With ages ranging from 15 to 80, the most veteran of us played in the Birmingham Civic Symphony, the youngest are students.  All of us are bound together by a passion that leads us to work on concert materials well before rehearsals for the sake of the music. Although we include physicians, a dentist, a physics professor, and several band teachers, most of us studied our instrument seriously in university music departments and at conservatories before finding other sources of daily income.  
We exist as a musical force because of the support of many who like what we do.  We take this opportunity to thank those who have, over the years, given us the tools we needed to survive and flourish:  Birmingham-Southern College, Samford University, and the Unitarian Church, all of whom have given the orchestra a home base across the years for rehearsals and performances;  the Alabama State Council on the Arts, the Birmingham Regional Arts Commission, and the private donors who have provided financial support;  area churches, libraries, and schools who have allowed us rehearsal and performance space, especially the Birmingham Botanical Gardens and the Birmingham Museum of Art;  and all of the conductors, soloists, and players who have given freely of their time and talents to work with this orchestra.
Special thanks to the Alabama State Council on the Arts and the Birmingham Regional Arts Council for financial help with this concert.  Thanks also to Frances Gilmore, Head of the Fine Arts Committee, and to Norma Jean Morton for assistance at the church in planning the concert, and to Hueytown Methodist Church for publicity, rehearsal and performance space.  As always, thanks to you our supporters, whose help makes all of these performances possible. 
<![if !supportEmptyParas]> <![endif]>
---------------------------------------------------------------
<![if !supportEmptyParas]> <![endif]>
<![if !vml]>

<![endif]>
<![if !supportEmptyParas]> <![endif]>
Howard Goldstein, Conductor
<![if !supportEmptyParas]> <![endif]>
PROGRAM
<![if !supportEmptyParas]> <![endif]>
Overture to L'Italiana in Algeri (1813)                                                          Gioacchino Rossini
            Andante                                                                                                                1792-1868
            Allegro
<![if !supportEmptyParas]> <![endif]>
Concerto Grosso in A Major,                                                                  George Frideric Handel
Op. 6, No. 11 (1739)                                                                                                  1685-1759
            Andante larghetto e staccato
            Allegro
            Largo e staccato; Andante
            Allegro
Concertino
Gwen Knowlton and Dawn Grant, Violin
Carol Leitner, Violoncello
<![if !supportEmptyParas]> <![endif]>
Czech Suite, Op. 39 (1879)                                                                                   Antonín Dvořák
            Preludium (Pastorale)                                                                                         1841-1904
            Polka
            Sousedská (Minuetto)
            Romance
            Finale (Furiant)
<![if !supportEmptyParas]> <![endif]>
Please sign our registration book in the foyer so that we may keep you informed of future RMCO concerts.  Thanks.
Please visit our web site at http://www.rmco.org/
<![if !supportEmptyParas]> <![endif]>
---------------------------------------------------------------
<![if !supportEmptyParas]> <![endif]>
ROSSINI: Overture to "L'italiana in Algeri"
      Rossini may have been the fastest working composer in history. In May 1813, he wrote this opera in only 20 days, after the previously contracted composer skipped town. It was a great opportunity for the 21-year old newcomer and a huge success at its Venice premiere. It established Rossini's trademark comic style of bubbling vitality, melodic abundance, and detailed musical characterization. The overture captures perfectly the high spirits of the farcical plot, in which a Italian girl searches the world for her lost lover, is abducted by a Turkish tyrant, finds that her lover is a slave at the tyrant's court (!), and proceeds to not only rescue her lover but reconcile the tyrant and his estranged wife!
<![if !supportEmptyParas]> <![endif]>
HANDEL:
Concerto Grosso in A Major, Op. 6, No. 11
      One of the oldest forms of orchestral music is the concerto, which was developed in the early 1700s primarily by Italian composers Corelli and Vivaldi, and which pits one or more soloists against a larger orchestra. Although the solo concerto is more popular today, the concerto grosso (big concerto) for a small group of soloists (in Italian, concertino) was more important in the concerto's early history. Handel's 1739 set of twelve concerti grossi were published in London in 1740. He wrote them in a month's time, intending them as interludes to be played during performances of his theatrical works, but he also expected them to be performed at the ever increasing number of public orchestral concerts in London. The concertino consists of two violins and a 'cello. In this concerto their virtuosity is tested most brilliantly in the third movement. The first two movements are typically French in their dotted rhythms and fugal texture, while the last is a bumptious peasant dance.
<![if !supportEmptyParas]> <![endif]>
DVORÁK: Czech Suite, Op. 39
      The suite is also an early form of orchestral music, consisting originally of short dance movements to which quieter, more lyrical movements were added later. Dvořák's Czech Suite, composed in April 1879, and premiered the following month in Prague, adds a further element of Czech nationalism. During Dvořák's lifetime, the Czech-speaking lands were part of the Austrian Empire. Music based on Czech folk music played an important part in forging a Czech national identity during the late nineteenth century, when the demands for a separate Czech nation intensified. (By the way, two generations of Czech musicians named Cadek played important roles in the musical life of Birmingham, Tuscaloosa, and Chattanooga.) Czech dances heard in this suite include the Polka, Sousedská (a rustic minuet), and the fiery Furiant, with its bracing use of cross rhythms. The non-dance movements are the quietly evocative Preludium, with its bagpipe-like drones, and the operatic Romance, which features the mellow tones of the English Horn. Although this work is scored for a small orchestra, Dvořák achieves variety of tone color by using different groups of winds and brass in each movement, and by saving the trumpets and tympani until the last movement.
<![if !supportEmptyParas]> <![endif]>
Program notes by Howard Goldstein
<![if !supportEmptyParas]> <![endif]>
---------------------------------------------------------------
<![if !supportEmptyParas]> <![endif]>
Our soloists
The Concertino for today's performance of Handel's Concerto Grosso is comprised of Gwen Knowlton, Dawn Grant, and Carol Leitner.  Gwen Knowlton began violin at age 10 and has continued to play in orchestras while she has pursued her career as a Registered Nurse.  Currently working as a nurse at the Kirklin Clinic, she has played in the Red Mountain Chamber Orchestra for 15 years.  Dawn Grant is also a nurse with a passion for playing violin, having come to Birmingham and joining the RMCO just this past year.  Previous playing experience includes such noted organizations as the Atlanta Symphony and the Alabama Shakespeare Festival.  Carol Leitner has played cello since age 8, joining the RMCO in 1999.  A general surgeon by profession, she performs regularly for local church services and in small chamber ensembles with her oboist son, Bryce Roberts.  They also provide music for healing and transition for the patients of the Greater Birmingham Hospice Association.  Together with the other health professionals in the RMCO, today's concertino players are known as "The Medical Maestros."
<![if !supportEmptyParas]> <![endif]>
Our Conductor
Howard Goldstein is an Associate Professor of Music at Auburn University, where he teaches music history and violin, and is Music Director of the Auburn University/Community Orchestra.  He is also the Assistant Conductor of the Columbus Symphony Orchestra.  A native of Los Angeles, he received his early musical education there, eventually receiving a degree from the University of California, Los Angeles, where he studied violin with Alexander Treger and conducting with Samuel Krachmalnick.  After studies in historical musicology at Columbia University, where he served as Assistant Conductor of the Columbia University Orchestra, he studied conducting with Frederik Prausnitz at the Peabody Conservatory and served as his assistant, and received Master's and Doctoral degrees in Orchestral Conducting.  He also studied with Hans Beer at the University of Southern California, Milan Horvat at the Salzburg Mozarteum Sommerakademie, and Harold Farberman at the Conductor's Institute.  He has conducted orchestras in New York, Baltimore, and the Czech Republic and is a regular guest with the Red Mountain Chamber Orchestra in Birmingham, Alabama.  His articles on musical theatre appear in the New Grove's Dictionary of Music, Revised Edition. 
<![if !supportEmptyParas]> <![endif]>
---------------------------------------------------------------
<![if !supportEmptyParas]> <![endif]>
THE RED MOUNTAIN CHAMBER ORCHESTRA PLAYERS
First Violin

Gwen Knowlton

     Concertmaster

Susan Dean

Kimberly Ferguson

Heidi Kapanka

Godehard Oepen

Marilyn Pipkin

Second Violin

Dawn Grant

     Principal

Ilene Brill

Katie Cruce

Charles Tharp

Viola

Suzanne Beaudry

     Principal

Karen Eastman

Marilyn Pipkin

Cello

Carol Leitner

     Principal

Daniel Hallmark

Dorinda Smith

Diedre Vaughn

Sandra Wesemann

Double Bass

Steve Lewis

     Principal

Flute

David Agresti

Don Gilliland

Oboe

Lisa Buck

Brian Van Tine

English Horn

Bryce Roberts

Clarinet

Ron Peters

Barry Jackson

Bassoon

Jeremy Arthur

Horn

Ginny Carroll

John Greer

Trumpet

Paul Morton

Dennis Carroll

<![if !supportEmptyParas]> <![endif]>

<![if !supportEmptyParas]> <![endif]>

Timpani

Danielle Brown

<![if !supportEmptyParas]> <![endif]>

Harpsichord

Suzanne Beaudry
<![if !supportEmptyParas]> <![endif]>
RMCO Administration & Board
President  Suzanne Beaudry

Vice President  Barry Jackson

Recording Secretary  Peggy Brooks

Corresponding Secretary

     Gwen Knowlton

Treasurer  Kendall Holman

Librarian  Kimberly Ferguson

Programs  David Agresti

Historian  Rita Salzberg

Founder  Robert Markush

Consultants 

     Leslie Fillmer,

     Oliver Roosevelt

Stage Managers, Web Masters 

     Charles Tharp, Daniel Hallmark

Personnel 

     Winds   John Greer

     Strings  Godehard Oepen

Members-at-Large 

     Linda Mahan, Heidi Kapanka
<![if !supportEmptyParas]> <![endif]>
Did you enjoy today's program?
Contributions are much needed by the Red Mountaineers for the purchase/rental of music and other expenses.  A cash contribution would be appreciated.  If you have questions, call Suzanne Beaudry at 254-3774.  We qualify as a non-profit organization under Chapter 401-C.
<![if !supportEmptyParas]> <![endif]>
---------------------------------------------------------------
<![if !supportEmptyParas]> <![endif]>
2001-2002  -  22nd Season of the RMCO
October 21,  3:00 pm, Fall Concert
     Sanctuary, Canterbury Methodist Church (871-4695)
Peter Warlock - Capriol Suite for strings
Mozart - Symphony #29 in A Major, K 201
Wanhal - Viola Concerto in F Major, with Michael Kimber
Robert Wright of the University of Montevallo, conducting
December 4,  5:30 pm, Christmas Tree Lighting Ceremony
     Linn Park, Birmingham City Center
Leroy Anderson - Sleigh Ride
Vaughan Williams - Fantasia on Greensleeves
Niels Gade - Christmas Suite
Todd Norton of Jefferson State Community College, conducting
February 17, 3:00 pm, Dorsey Whittington
     Concerto/Aria Competition Winners
     Hill Hall, Birmingham-Southern College
The competition winners will solo with the orchestra.
Thomas Gibbs of Birmingham Southern College, conducting
April 28, 3:00 pm, Spring Concert
Hueytown Methodist Church, 110 Sunset Drive
Rossini - Overture to L'Italiana in Algeri
Handel - Concerto Grosso in A Major, Op. 6, No. 11
Dvořák - Czech Suite, Op. 39
Howard Goldstein of Auburn University, conducting
May 12,  3:00 pm, Mother's Day Concert
     Ireland Room, Birmingham Botanical Gardens
Handel - Concerto Grosso in A Major, Op. 6, No. 11
Haydn - Flute Quartet No. 5 in D Major, Opus 5, No. 5
Bartok - Violin Duos, with H. Goldstein and G. Knowlton
June 23,  3:00 pm, Summer Solstice
Steiner Auditorium, Birmingham Museum of Art
A concert of small ensemble works
---   As always, admission is free   ---  
<![if !supportEmptyParas]> <![endif]>