The Division of Fine and Performing Arts
of
BIRMINGHAM-SOUTHERN COLLEGE
presents
<![if !vml]>

<![endif]><![if !vml]>

<![endif]>

performing
Fall Concert
<![if !vml]>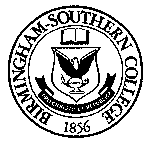 <![endif]>
The Sanctuary
Canterbury Methodist Church
Sunday afternoon, 3:00 pm
October 21, 2001
The Red Mountain Chamber Orchestra
The Red Mountain Chamber Orchestra exists to educate and give pleasure to the public by performing a repertoire of classical music not otherwise heard in Birmingham, as well as to provide a musical outlet for skilled players, conductors, and soloists, both professional and amateur, in the community. Because of our chamber orchestra size, we are able to move about the area, playing in different venues each season, thereby reaching a more diverse audience and addressing ourselves more clearly to the needs and interests of the community. Although completely independent as to policies, the RMCO has for about a decade rehearsed and performed at Birmingham-Southern College. We are proud to be an adjunct of BSC's Division of Fine and Performing Arts.
Founded 21 years ago, with the first concert on November 2, 1980, the orchestra has always been based in Birmingham, although some of the players come in from outlying communities and we perform at least once a season outside the city.With ages ranging from 15 to 80, the most veteran of us played in the Birmingham Civic Symphony, the youngest are students.All of us are bound together by a passion that leads us to work on concert materials well before rehearsals for the sake of the music. Although we include many physicians, a dentist, a physics professor, and several band teachers, most of us studied our instruments seriously in university music departments and at conservatories before finding other sources of daily income.
We exist as a musical force because of the support of many who like what we do.We would like to take this opportunity to thank those who have, over the years, given us the tools we needed to survive and flourish: Birmingham-Southern College, Samford University, and the Unitarian Church, all of whom have given the orchestra a home base across the years for rehearsals and performances; the Alabama State Council on the Arts, the Birmingham Regional Arts Commission, and the private donors who have provided financial support; area churches, libraries, and schools who have allowed us rehearsal and performance space, especially the Birmingham Botanical Gardens and the Birmingham Museum of Art;and all of the conductors, soloists, and players who have given freely of their time and talents to work with this orchestra.
Special thanks to the Alabama State Council on the Arts and Birmingham Regional Arts Council for financial help with this concert. Thanks also to Rita Taufique and Sarah Johnson for assistance at the church in planning the concert and to Canterbury United Methodist Church for publicity, rehearsal and performance space. As always, thanks to you our supporters, whose help makes all of these performances possible.
<![if !supportEmptyParas]> <![endif]>
Robert Wright, Conductor
Capriol Suite for String Orchestra                                       Peter Warlock
                         Basse-Dance                                                                                                             1894-1930
                         Pavane
                         Tordion
                         Bransles
                         Pied-en-L'air
                         Mattachins
Viola Concerto in F Major                                        Johann Baptist Wanhal
                         Allegro moderato                                                                                          1739-1813
                         Adagio
                         Allegro
Michael Kimber, Viola soloist
Symphony #29 in A Major, K 201                                                     W. A. Mozart
                         Allegro moderato                                                                                          1756-1791
                         Andante
                         Menuetto
                         Allegro con spirito
Our thanks to Michael Kimber for coming from Hattiesburg, Mississippi to play the concerto.If you are interested in checking out the books and materials he has for sale, his web site is: http://members.tripod.com/~m_kimber/mk.html.
Please sign our registration book in the foyer so that we may keep you informed of future RMCO concerts. Thanks.
Viola Concerto in F Major
             Johann Baptist Wanhal, Bohemian composer, was born in Nové-Nechanise in 1739 and died in Vienna in 1813. As a young man he went to Vienna, had some composition lessons with Dittersdorf, and became well-known both as a composer and as a teacher; one of his pupils was Pleyel.After some years in Italy and Hungary, Wanhal returned to Vienna as one of the first musicians working independently, not under the patronage system.
             Wanhal was a prolific and highly regarded composer in his day. His widespread fame is evident from an account we find in the memoirs of an Englishman describing a quartet party he had attended in Vienna:
"The players were tolerable, not one of them excelled on the instrument he played, but there was a little science among them, which I dare say will be acknowledged when I name them:
The First Violin.....Haydn
The Second Violin.....Baron Dittersdorf
The Violoncello.....Vanhall
The Tenor [viola].....Mozart
A greater treat...cannot be imagined.... After the musical feast was over, we sat down to an excellent supper, and became joyous and lively in the extreme. "
             Wanhal's Viola Concerto in F Major is a version of his bassoon concerto in the same key. In adapting the work for viola, Wanhal added excellent cadenzas and rewrote the solo part to suit the technical features of this instrument. The style is pre-Classical, earlier than Wanhal's better-known viola concerto in C major.
             Todays' performance with the RMCO is, as far as we know, a southeastern premiere of this delightful work.
Edited by Michael Kimber
Worlock - Capriol Suite for String Orchestra
             Peter Worlock was the name assumed by Philip Heseltine, the composer of many exquisite songs and a handful of instrumental pieces, of which the Capriol Suite is deservedly the most well known. Written in 1926, it is based on ancient dance tunes quoted in the sixteenth century treatise on dancing by Thoinot Arbeau. The book is written in the form of a dialogue between the author and a lawyer called Capriol, whose name Worlock gave to his Suite. Though first composed as a piano duet and subsequently arranged for full orchestra, it is this string version that is performed regularly.
             The Basse Danse is stately in character considered by Arbeau as "suitable for sage and modest matrons", whereas the Pavane is less solemn than usual.The Tordion is very dainty, with a pizzicato section at the end, while the Bransles is a fast dance featuring the tapping of one of the feet. One of Worlock's loveliest tunes is heard in Pieds-en-l'air, while by contrast there is some harmonic dissonance in Mattachins, a sword dance for men in armor.
Symphony No. 29 in A Major, K. 201
             Mozart was just 18 when he wrote his 29th Symphony. You'll be able to enjoy some of his stylistic treats. For one thing, Mozart returns to the four movement symphonic form with the minuet in the third position, as was the custom in Vienna. For another, this Symphony shows an increased seriousness in addition the Italianate grace and charm of its predecessors.
             The first movement begins softly with a striking theme as in the Linz Symphony, recognizable by a recurrence of a skipping octave. Horns and oboes join strings for a repetition of the main theme. The slow movement, although cast in the same form as the first, is entirely different in character, almost a serenade in spirit. No longer a courtly dance, the Minuet has a vigor in the dotted rhythms and a near violence in the sudden fortissimos that anticipate the spirit of Beethoven. The Finale is gay and energetic, with a zestful main theme that may call to mind the first movement theme because of the octave jumps they share.
Edited by Oliver Roosevelt
Our Soloist
Violist Michael Kimber joined the string faculty of the School of Music at The University of Southern Mississippi in 1999 after having taught viola at The University of Kansas for twenty years.Formerly violist of the well-known Kronos Quartet, a founding member of the Atlanta Virtuosi, and a founding member and principal violist of the Kansas City Chamber Orchestra, Dr. Kimber has performed in Europe, Australia, and throughout North America.
As a viola soloist Kimber has appeared with a number of orchestras and has been featured on National Public Radio's "Performance Today." He has also been active as a baroque violinist and violist. He currently serves as principal violist of the Meridian Symphony Orchestra and returns to Kansas City annually to perform in the Summerfest chamber music series there.Kimber's compositions for strings have earned widespread recognition and enjoyed performances both in the U.S. and abroad.
Our Conductor
             ROBERT WRIGHT is Coordinator of Vocal and Choral Music at the University of Montevallo. A native of Bessemer, he holds degrees from Samford University, the University of South Florida, and the University of Miami.He has been a highly successful choral director in Alabama, Florida, South Dakota, and Tennessee, and was for several seasons the Associate Conductor of the Tech Community Symphony Orchestra in Cookeville, TN. Dr. Wright returned in 1996 to the Birmingham area after fourteen years as Director of Vocal Activities at Tennessee Technological University, where his choir performed to critical acclaim at state, regional, and national music conventions.
   Dr. Wright is active as a singer and conductor and is a member of the American Choral Directors Association and Music Educators National Conference as well as the Alabama Music Educators Association and Alabama Vocal Association. This is his sixth concert with the RMCO.
Insert soloist and conductor
THE RED MOUNTAIN CHAMBER ORCHESTRA PLAYERS
First Violin

Gwen Knowlton

          Concertmaster

Susan Dean

Godehard Oepen

Kimberly Ferguson

Second Violin

Dawn Grant

          Principal

Marilyn Pipkin

Katie Cruce

Amanda Odom

Charles Tharp

Viola

Suzanne Beaudry

          Principal

Karen Eastman

Cello

Carol Leitner

          Principal

Dorinda Smith

Diedre Vaughn

Daniel Hallmark

Tracy Bishoff

Double Bass

Kendall Holman

          Principal

Oboe

Lisa Buck

Brian Van Tine

Horn

Ginny Carroll

Julie McEntee

Harpsichord

Suzanne Beaudry
RMCO Administration & Board
PresidentSuzanne Beaudry

Vice President Barry Jackson

Recording Secretary Peggy Brooks

Corresponding Secretary

Gwen Knowlton

Treasurer

Kendall Holman

Librarian

Kimberly Ferguson

Programs

David Agresti

Historian

Rita Salzberg

Founder

Robert Markush

Consultants

Leslie Fillmer,

Oliver Roosevelt

Stage Managers,

Web Masters

Charles Tharp

Daniel Hallmark

Personnel

WindsJohn Greer

StringsGodehard Oepen

Members-at-Large

Linda Mahan

Heidi Kapanka
2001-2002- 22nd Season of the RMCO
October 21 , 3:00 pm, Fall Concert
             Sanctuary, Canterbury Methodist Church (871-4695)
Peter Warlock - Capriol Suite for strings
Mozart - Symphony #29 in A Major, K 201
Wanhal - Viola Concerto in F Major, with Michael Kimber
Robert Wright of the University of Montevallo, conducting
December 4 , 5:30 pm, Christmas Tree Lighting Ceremony
             Linn Park, Birmingham City Center
Leroy Anderson - Sleigh Ride
Vaughn-Williams - Fantasia on Greensleeves
Neils Gade - Christmas Suite
Todd Norton of Jefferson State Community College, conducting
February 17 , 3:00 pm, Dorsey Whittington
             Concerto/Aria Competition Winners
             Hill Hall, Birmingham-Southern College
The competition winners will solo with the orchestra.
Thomas Gibbs of Birmingham Southern College, conducting
April 28 , 3:00 pm, Spring Concert
Hueytown Methodist Church, 110 Sunset Drive, 491-3421
Corelli - Concerto Grosso
Dvorak - Legends
Howard Goldstein of Auburn University, conducting
May 12 ,3:00 pm, Mother's Day Concert
             Ireland Room, Birmingham Botanical Gardens
A concert of small ensemble works
June 23 ,3:00 pm, Summer Solstice
Steiner Auditorium, Birmingham Museum of Art
A concert of small ensemble works
---As always, admission is free ---
Did you enjoy today's program?
Contributions are much needed by the Red Mountaineers for the purchase/rental of music and other expenses. A cash contribution would be appreciated. If you have questions, call Suzanne Beaudry at 254-3774. We qualify as a non-profit organization under Chapter 401-C.
Please visit our web site at http://www.bham.net/rmco
~