<![if !supportEmptyParas]> <![endif]>
<![if !supportEmptyParas]> <![endif]>
<![if !vml]>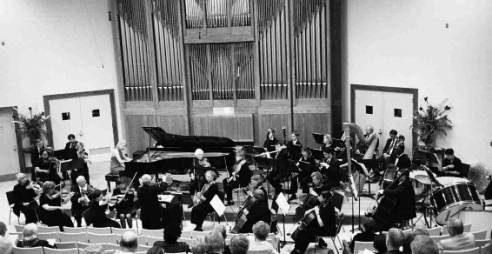 <![endif]>
Photo courtesy of Joe Gilliland
<![if !vml]> <![endif]>

The Division of Fine and Performing Arts
of
BIRMINGHAM-SOUTHERN COLLEGE
presents
<![if !supportEmptyParas]> <![endif]>
with the
Winners of the Dorsey
and Frances Whittington
Competition
<![if !supportEmptyParas]> <![endif]>
<![if !vml]>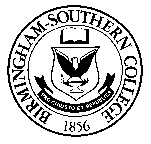 <![endif]>
Hill Hall
Birmingham-Southern College
Sunday afternoon, 3:00 pm
April 22, 2001
The Red Mountain Chamber Orchestra
The Red Mountain Chamber Orchestra exists to educate and give pleasure to the public by performing a repertoire of classical music not otherwise heard in Birmingham, as well as to provide a musical outlet for skilled players, conductors, and soloists, both professional and amateur, in the community.  Because of our chamber orchestra size, we are able to move about the area, playing in different venues each season, thereby reaching a more diverse audience and addressing ourselves more clearly to the needs and interests of the community.  Although completely independent as to policies, the RMCO has for about a decade rehearsed and performed at Birmingham-Southern College.  We are proud to be an adjunct of BSC's Division of Fine and Performing Arts.
Founded 20 years ago, with the first concert on November 2, 1980, the orchestra has always been based in Birmingham, although some of the players come in from outlying communities and we perform at least once a season outside the city.  With ages ranging from 15 to 80, the most veteran of us played in the Birmingham Civic Symphony, the youngest are students.  All of us are bound together by a passion that leads us to work on concert materials well before rehearsals for the sake of the music. Although we include many physicians, a dentist, a physics professor, and several band teachers, most of us studied our instruments seriously in university music departments and at conservatories before finding other sources of daily income.  
We exist as a musical force because of the support of many who like what we do.  We would like to take this opportunity to thank those who have, over the years, given us the tools we needed to survive and flourish:  Birmingham-Southern College, Samford University, and the Unitarian Church, all of whom have given the orchestra a home base across the years for rehearsals and performances;  the Alabama State Council on the Arts, the Birmingham Regional Arts Council, and the private donors who have provided financial support;  area churches, libraries, and schools who have allowed us rehearsal and performance space, especially the Birmingham Botanical Gardens and the Birmingham Museum of Art;  and all of the conductors, soloists, and players who have given freely of their time and talents to work with this orchestra.  Birmingham-Southern College is now the sheltering organization for the RMCO.
RMCO is honored to participate in this inaugural presentation of the Winners of Whittington Competition at Birmingham-Southern College, which provides for BSC undergraduate music majors, chosen in a preliminary competition, the opportunity to perform concertos and arias with orchestra.  The competition is named for Frances and Dorsey Whittington, whose profound influence as teachers became the musical foundation for generations of Birmingham musicians.  The Birmingham Conservatory of Music –  now the Music Department at Birmingham-Southern College – was for many years under their leadership.
Thanks to the Fine Arts Council of Birmingham-Southern College for the reception in the Blue Room following the concert.
THE RED MOUNTAIN CHAMBER ORCHESTRA PLAYERS
First Violin

Gwen Knowlton

        Concertmaster

Heidi Kapanka

Susan Dean

John Maltese

Marianne Griffin

Second Violin

Kimberly Ferguson

        Principal

Marilyn Pipkin

David Sherman

Charles Tharp

Viola

Suzanne Beaudry

        Principal

Karen Eastman

Melanie Richardson

Joanna Bosko

<![if !supportEmptyParas]> <![endif]>

Cello

Jackie McKinney

        Principal

Carol Leitner

Dorinda Smith

Patti Pilon

Double Bass

Kendall Holman

        Principal

Marcus Cureton

Piano

Kevin Grigsby

Libby Van Pelt

Celeste

Libby Van Pelt

Harp

Ellen Stanton

Timpani

Robert Stanton

Flute

Don Gilliland

David Agresti

Oboe

Lisa Buck

Brian Van Tine

Clarinet

Ron Peters

Bassoon

Brenda Akin

Jeremy Arthur

Horn

Ginny Carroll

Julie McIntee

Trumpet

Dennis Carroll

Paul Morton

Trombone

Robert Black
<![if !supportEmptyParas]> <![endif]>
<![if !supportEmptyParas]> <![endif]>
The Red Mountain Chamber Orchestra Administration & Board
President  Suzanne Beaudry

Vice President  Barry Jackson

Recording Secretary  Ilene Brill

Corresponding Secretary

        Gwen Knowlton

Treasurer  Jackie McKinney

Librarian  Kimberly Ferguson

Programs  David Agresti

Historian  Rita Salzberg

Founder  Robert Markush

Consultants 

        Leslie Fillmer,

        Oliver Roosevelt

Stage Managers 

        Charles Tharp, Phil Wood

Personnel 

        Winds   John Greer

        Strings  Godehard Oeten

Members-at-Large 

        Linda Mahan, Heidi Kapanka
Today's Conductor
        Thomas Gibbs joined the faculty of music of Birmingham-Southern College in 1970.  He currently teaches courses in music history, music literature, conducting, and church music.  He was chair of the Division of Fine and Performing Arts from 1980 to 1988.  Dr. Gibbs served for ten years as the conductor of the Birmingham Concert Chorale and choral director for the Alabama Symphony Orchestra.  He was Birmingham Summerfest's first music director, conducting twenty-five Summerfest musical productions.  He is active as a choral clinician, adjudicator, and conducting teacher, and he appears regularly as a conductor of the Red Mountain Chamber Orchestra.
Today's Soloists
        Betsy Jackson is a senior Piano Performance major from Decatur, Alabama.  She was the winner of the 2000 Alys Robinson Stephens Piano Competition.  She is currently spending time composing children's piano music.  After graduation she will attend Southern Methodist University on a full scholarship, where she will pursue a master's degree in piano performance and piano pedagogy.  She is a piano student of William DeVan.
        Daniel Seigel is a junior at Birmingham-Southern College.  A theatre major, he is currently portraying Sydney Carton in the College Theatre's adaptation of A Tale of Two Cities.  He is also proud to have just finished a recital with Nat Gunter, another baritone at the college.  Mr. Seigel is a voice student of John Jennings.
        Nicole Duncan is a junior at Birmingham Southern College majoring in Vocal Performance.  She has recently played Rosine in BSC's production of Signor Deluso and is currently a member of the Concert Choir.  Ms. Duncan is a graduate of Alabama School of Fine Arts.  She has been a soloist at St. Mary's Episcopal Church and First United Methodist Church.  In 2000, Ms. Duncan placed first in the National Association of Teachers of Singing state vocal competition and second place in this year's competition.  After graduating from BSC, she plans to attend graduate school for her masters degree and to pursue a career in operatic performance.  She is a voice student of Jacqueline Leary-Warsaw.
        Kathleen Healy is a senior Vocal Performance major from Canton, Connecticut.  She cantors for St. Stephen the Martyr Catholic Church and is a member of the chancel choir at Canterbury United Methodist Church.  This year Ms. Healy was a recipient of an encouragement award from the Metropolitan National Opera Council.  She was also awarded second place in the National Association of Teachers of Singing state competition.  She sang the role of Ursula in the College's world premiere performances of Charles Mason's Daphne at Sea.  She is a voice student of David Smith.
Thomas Gibbs, Conductor
Program
Symphony No. 56, in C Major                  Franz Joseph Haydn
            Allegro di molto                                                      1732-1809
            Adagio
            Menuet, Trio
            Finale: Prestissimo
---   Intermission   ---
Piano Concerto, K. 466, in D Minor        Wolfgang A. Mozart
            Allegro                                                                1756-1791
Betsy Jackson, Soloist
<![if !supportEmptyParas]> <![endif]>
The Count's Aria (Hai già vinto la causa)  Wolfgang A. Mozart
from Le Nozze di Figaro                            
Daniel Seigel, Soloist
<![if !supportEmptyParas]> <![endif]>
Monica's Song (The Black Swan)                 Gian-Carlo Menotti
      from The Medium                                                       b. 1911
Nicole Duncan, Soloist
<![if !supportEmptyParas]> <![endif]>
Magda's Aria (To This We've Come)          Gian-Carlo Menotti
      from The Consul
Katheen Healy, Soloist
<![if !supportEmptyParas]> <![endif]>
<![if !supportEmptyParas]> <![endif]>
Please join us in the lounge area
for a reception following the concert.
Haydn - Symphony No. 56, in C Major
        Haydn came from Austrian peasant stock and was proud of it.  He said, after he came back from England, "I have often in life mixed with many exalted persons, and we understood each other, too; but I prefer to be with people of my own class."  This was the proud statement of a man who had chatted with the King and Queen of England and had sat next to the Duchess of York as she happily hummed the tunes of his symphonies. Haydn was never a peasant when it came to musical construction, however; here a highly educated thinker stands beside an earthbound man who loved the Austrian people. 
        This symphony begins with a festive, brilliant first movement, with horns and trumpets used in their high registers.  Formal sections of the movement are clearly articulated by rests and pauses.   There is occasional chromaticism and suggestions of minor mode that add a serious affect.  The second movement is in the subdominant, F Major, and provides a restful and elegant lyric contrast to the first movement.  Oboes figure prominently, and the bassoon solos are especially notable.  The minuet is a wonderful specimen, with a character both polite and jovial.  The last movement is structurally similar to the first two.  Oliver Roosevelt calls our attention to "its stunning trumpet fanfares, the whirling triplets, and the dancing, tongue-in-cheek second subject."
Frontispiece of the Haydn manuscript
Mozart - Piano Concerto in D minor, K. 466 (Allegro)
        In February of 1785, Leopold Mozart, visiting his son in Vienna, wrote back home to Salzburg of a concert at the Burgtheater at which Wolfgang had performed a piano concerto.  "I had the great pleasure of hearing so clearly all the interplay of the instruments that for sheer delight tears came into my eyes."  Leopold was hearing something radically new in his son's conception of the piano concerto. 
        Of Mozart's 27 piano concertos, only two are in minor keys.  This d minor concerto is one of Mozart's darkest and most chromatic works.  The lyrical entrance of the piano soloist is in marked contrast to the turbulent orchestral tutti beginning.  Woodwind colors are prominent, and the piano solo is deftly integrated into the orchestral texture.
Mozart - The Count's Aria, from Le nozze di Figaro
        The Marriage of Figaro was Mozart's first collaboration with librettist Lorenzo da Ponte.  This libretto, based on the second play of a trilogy by Beaumarchais, is openly critical of the old social order of Europe.  Count Almaviva lusts after Susanna, the Countess's maid, but he has been outwitted by his own servant Figaro, Susanna's husband-to-be.
<![if !vml]>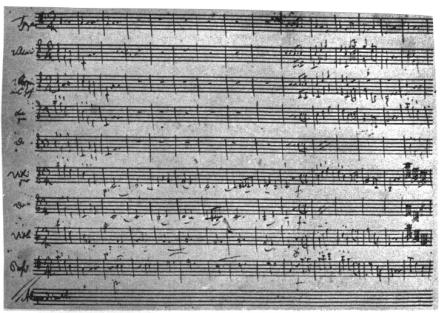 <![endif]>
Menotti - Monica's Song (The Black Swan), from The Medium
        The Medium is Baba--a charlatan, a drunk, and also something of a tragic figure.  Her household includes her daughter, Monica, and Toby, a mute. Monica calms a hysterical Baba by singing to her this song, "The Black Swan."
        In 1947, Menotti wrote a short one-act comedy, The Telephone, as a curtain raiser for The Medium, and the pair of works received over 200 performances on Broadway.  The Medium is considered by many to be Menotti's finest operatic work.
Menotti - Magda's Aria, from The Consul
        In this aria, the opera's musical centerpiece, Menotti's Magda rages against the inhumanity of faceless bureaucracy
<![if !supportEmptyParas]> <![endif]>
In 2001, Gian-Carlo Menotti celebrates his 90th birthday.
<![if !supportEmptyParas]> <![endif]>
<![if !supportEmptyParas]> <![endif]>
<![if !supportEmptyParas]> <![endif]>
<![if !supportEmptyParas]> <![endif]>
Notes by Oliver Roosevelt and Tom Gibbs
<![if !supportEmptyParas]> <![endif]>
<![if !supportEmptyParas]> <![endif]>
<![if !supportEmptyParas]> <![endif]>
<![if !supportEmptyParas]> <![endif]>
<![if !supportEmptyParas]> <![endif]>