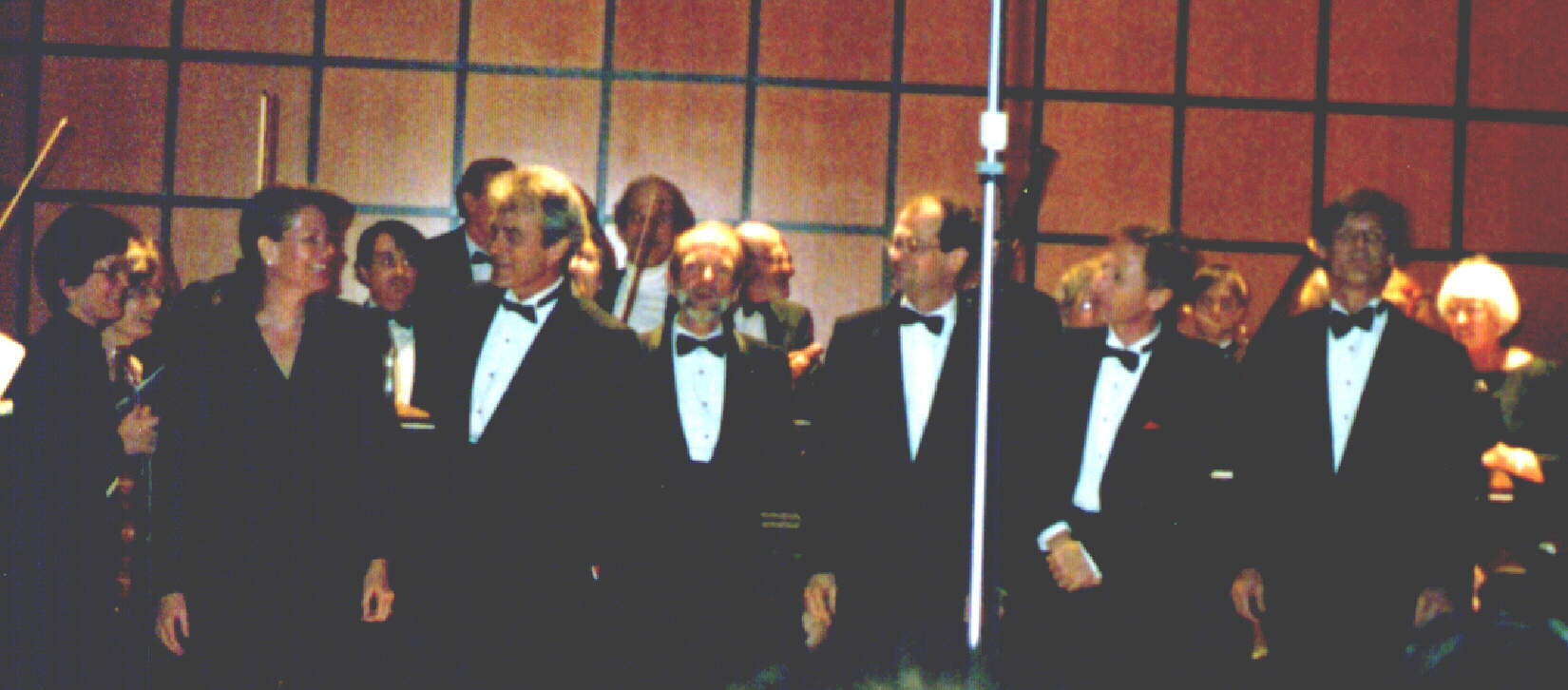 The Division of Fine and Performing Arts
of
BIRMINGHAM-SOUTHERN COLLEGE
presents
performing
20th Anniversary Concert
Concert Hall
Indian Springs School
Sunday afternoon, 3:00 pm
November 5, 2000
In Memoriam
This concert is dedicated to Mary Brown, faithful supporter and a member of the RMCO for 18 years.She graduated from Birmingham-Southern College and was a founding member of the Birmingham Symphony.Her musicianship and love of the orchestra will stay with us as we continue into the 21st Century. Other members who have passed away: Robert Berendt; Mildred McClellan; Elizabeth Selman.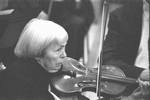 The Red Mountain Chamber Orchestra
The Red Mountain Chamber Orchestra exists to educate and give pleasure to the public by performing a repertoire of classical music not otherwise heard in Birmingham, as well as to provide a musical outlet for skilled players, conductors, and soloists, both professional and amateur, in the community.Because of our chamber orchestra size, we are able to move about the area, playing in different venues each season, thereby reaching a more diverse audience and addressing ourselves more clearly to the needs and interests of the community. Although completely independent as to policies, the RMCO has for about a decade rehearsed and performed at Birmingham-Southern College. We are proud to be an adjunct of BSC's Divis ion of Fine and Performing Arts.
Founded 20 years ago, with the first concert on November 2, 1980, the orchestra has always been based in Birmingham, although some of the players come in from outlying communities and we perform at least once a season outside the city.With ages ranging from 15 to 80, the most veteran of us played in the Birmingham Civic Symphony, the youngest are students.All of us are bound together by a passion that leads us to work on concert materials well before rehearsals for the sake of the music. Although we include many physicians, a dentist, a physics professor, and several band teachers, most of us studied our instruments seriously in university music departments and at conservatories before finding other sources of daily income.
We exist as a musical force because of the support of many who like what we do.We would like to take this opportunity to thank those who have, over the years, given us the tools we needed to survive and flourish: Birmingham-Southern College, Samford University, and the Unitarian Church, all of whom have given the orchestra a home base across the years for rehearsals and performances;the Alabama State Council on the Arts, the Birmingham Regional Arts Council, and the private donors who have provided financial support; area churches, libraries, and schools who have allowed us rehearsal and performance space, especially the Birmingham Botanical Gardens and the Birmingham Museum of Art;and all of the conductors, soloists, and players who have given freely of their time and talents to work with this orchestra.
Special thanks are in order for those who helped with this Anniversary Concert:Alabama State Council on the Arts and BRAC;Dr. Tim Thomas and Indian Springs School for the use of the hall; Birmingham News and other media for assistance with publicity; Governor Seigelman and Ceil Snow, Oliver and Ann Roosevelt, Les Fillmer and the Alabama School of Fine Arts; Elizabeth Adkisson for assembling the program cover; and music students of Ms. Beaudry for assistance in the lobby. Special thanks also to all the RMCO conductors who participated in this concert, especially those who came in from around the country and to the guest players who have donated their time especially for this concert.
THE RED MOUNTAIN CHAMBER ORCHESTRA PLAYERS
First Violin

Gwen Knowlton

Concertmaster

*Ai Yi Bao

Kimberly Ferguson

Catherine Hunt

Heidi Kapanka

*Betty Miller

Godehard Oeten

*Marilyn Pipkin

*Doris Rosenbaum

Second Violin

Rita Salzberg

Principal

Ilene Brill

*Roger James

Linda Mahan

David Sherman

Charles Tharp

Phil Wood

Viola

Suzanne Beaudry

Principal

Joanna Bosko

Karen Eastman

*Nancy Watson

Cello

Jackie McKinney

Principal

Traci Bishoff

Carol Leitner

Dorinda Smith

*JoAnn Strickland

Double Bass

Kendall Holman

Principal

Mike Mahan

Flute

David Agresti

Don Gilliland

Peggy Brooks

Piccolo

Peggy Brooks

Oboe

Lisa Buck

Brian Van Tine

Clarinet

Ron Peters

Barry Jackson

Bassoon

Richard Murry

Jeremy Arthur

Horn

John Greer

Ginny Carroll

Trumpet

Paul Morton

Dennis Carroll

Trombone

Charles Ard

Alan Brooks

Robert Black

Timpani

*Sharon Hickox- Young

Triangle

Alan Brooks

*Guest player
The Red Mountain Chamber Orchestra Administration & Board
PresidentSuzanne Beaudry

Vice President Barry Jackson

Recording Secretary Ilene Brill

Corresponding Secretary

Gwen Knowlton

TreasurerJackie McKinney

LibrarianKimberly Ferguson

ProgramsDavid Agresti

HistorianRita Salzberg

FounderRobert Markush

Consultants

Leslie Fillmer,

Oliver Roosevelt

Stage Managers

Charles Tharp,Phil Wood

Personnel

Winds John Greer

Strings April Grimsley

Members-at-Large

Linda Mahan, Heidi Kapanka
Today's Soloist

HENRY RUBIN , the RMCO founding conductor, was at the time on the Music faculty of the University of Alabama. Having studied with Ivan Galamian at Julliard, he was a prize winner in the 1974 Tibor Varga International Violin Competition, and has had a long career as Soloist in Europe and America. Making his home in Houston, he dedicates himself to his students, who include many competition winners.
Today's Conductors
LES FILLMER served as RMCO's music director for eight years. An accomplished composer and orchestrator, his work has been performed and recorded by the Boston Pops, St. Louis, and Alabama Symphonies.
LESLIE STEWART is Director of Orchestral Studies and Lecturer of Violin and Viola at Old Dominion University in Virginia. A guest conductor, clinician and professional violinist, she performs with the Virginia Symphony and is a former Alabama Symphony member.
THOMAS GIBBS , a 30-year Birmingham-Southern Music faculty member and Division Chair from 1980 to 1988, regularly conducts the RMCO. He was Birmingham Concert Chorale conductor for 10 years.
DAVID ITKIN , while the Alabama Symphony Associate Conductor, was RMCO's Music Director for two seasons in the early 90s. He is in his 8th year as Music Director and Conductor of the Arkansas Symphony.
HOWARD GOLDSTEIN is Associate Professor of Music at Auburn, teaching music history and violin. He holds degrees in conducting and violin from the University of California and the Peabody Conservatory.
THOMAS HINDS , a graduate of the U. of North Carolina, received training at Aspen, the Goldofsky Opera Institute, and elsewhere.He has been music director of the Montgomery Symphony for 18 seasons.
WES KENNEY is in his fifth season as the Virginia Symphony's Associate Conductor. Carmen Dragon Conducting Prize Winner, he is President of the Conductors Guild, serving the professional conductor.
TODD NORTON is in his third year as Director of Choral Activities at Jefferson State Community College.He holds degrees from Auburn and the University of Colorado.
ROBERT WRIGHT is Coordinator of Vocal and Choral Music at the University of Montevallo. He returned to Birmingham in 1996 after 14 years as Director of Vocal Activities at Tennessee Technological Univ.
Other conductors with whom RMCO has worked in the past include David Amram, Tim Banks, Al Hunt, Reinier Knetsch, Daniel Lawhon, Harry McAfee, Mark Ridings, Lester Seigel, and Victor Vallo.
Program
Overture for Strings Gordon Jacob
Les Fillmer, Conductor 1895-
Symphony #8 in B minor, "Unfinished" Franz Schubert
Allegro moderato (1st movement only) 1797-1828
Leslie Stewart, Conductor
---Presentations ---
Proclamation

from the Governor

of Alabama

Ceil Snow

presenting

Plaque presented

to Birmingham-Southern College

Dr. Thomas Gibbs

accepting

Plaque presented

in honor of

Mary Brown

Marilyn Forbes

accepting
Violin Concerto #4, K 218, in D Major Wolfgang A. Mozart

Allegro 1756-1791

Andante cantabile

Rondeau Henry Rubin, Soloist

David Itkin, Conductor

---Intermission ---

Slavonic Dance Op. 72, No. 2 Antonin Dvorák

Allegretto grazioso 1841-1904

Howard Goldstein, Conductor

Romanian Folk DancesBéla Bartók

Joc Cu Bâta 1881-1945

BrâulPoarga Româneasca: Allegro

Pe Loc: AndanteMarun ű el: L'istesso tempo

Buciumeana: Moderato Marun ű el: Allegro vivace

Thomas Hinds, Conductor

Symphony No. 5 in C minor, Op. 67Ludwig van Beethoven

Allegro (4th movement only) 1770-1827

Wes Kenney, Conductor

Todd Norton and Robert Wright assisted as rehearsal conductors

Please join us in the foyer following the concert for a reception.




Gordon Jacob - Overture

In Overture for Strings the principal theme is a lively diatonic melody played in octaves. Derivative variants of the principal theme are stated by the violas and cellos in unison and later by the second violins.A pizzicato passage in the lower strings announces the arrival of the more relaxed secondary theme. A return to the lively opening closes that melody, and an ever quickening codetta brings the jaunty piece to a rousing finish.

Schubert - Unfinished Symphony

Schubert's first six symphonies were intended not for the public but for his family and friends.His musical language was all but fully developed by the end of his teens, and numerous touches of melody and harmony, especially magical switches of key, ensure that the music throughout sounds more like his than any one else's.

According to Leonard Bernstein, the Unfinished Symphony is merely the most unfinished of several symphonies Schubert left in different states of completion. It does not fall easily into the category either of public or sociable music-making. It is scored for large orchestra suitable for public concert halls, enlisting double woodwinds, pairs of horns and trumpets, three trombones, timpani, and strings.But the music is so personal, even intimate, that it seems hardly likely that the realization he was engaged on a piece that might have no potential audience could have led Schubert to lay it aside in the Autumn of 1822 and make no attempt to finish it or have it performed for the rest of his life. At this point he had completed just the first two movements.

Mozart - Violin Concerto #4, K. 218

In the autumn of 1777 Mozart wrote to his father Leopold in Salzburg and mentioned a performance he gave of the Strassburg Concerto which "went like oil," adding that "Every one praised my beautiful pure tone." This is most likely a reference to the last movement, which has a German folk tune thought to originate in that city. Mozart regularly played his violin concertos, even though he was never taught the instrument.

The introduction leads to the first movement, Allegro, with a stock figure that Mozart borrowed from a contemporary Neapolitan opera fanfare-like figure. The second is Andante Cantabile (singingly) and the finale, that German Rondeau, with a double refrain announced at once by the solo violin. A dance-like phrase, as delicately poised as any ballerina, passes quickly to a wistful, questioning, unfinished phrase, which in turn is answered by a sudden outburst of gaiety in a semi-jig rhythm.

Notes edited by Oliver Roosevelt

Dvorák- Slavonic Dance #2, Op. 72

November 5 ,3 pm, Concert Hall, Indian Springs School

---Gala 20th Anniversary Concert ---

Jacob - Overture, Les Fillmer conducting

Schubert - Symphony #8, "Unfinished", 1st Movement,

Leslie Stewart conducting

Mozart - Violin Concerto #4 in D Major, K. 218,

David Itkin conducting,Henry Rubin soloist

Dvorák - Slavonic Dances, Op. 72, #2, Howard Goldstein conducting

Bartók - Rumanian Folk Dances, Tom Hinds conducting

Beethoven - Symphony #5, 4th Movement, Wes Kenney conducting

February 25 , Winter Concert, in the Sanctuary,

Bluff Park United Methodist Church

Robert Wright of the University of Montevallo conducting

Mendelssohn - String Symphony #1

Brahms - Variations on a Theme of Haydn

Haydn - Symphony #96 in D Major, "Miracle"

April 22 ,3 pm, Concert, Aria Competition Winners

Hill Hall, Birmingham-Southern College

Thomas Gibbs of Birmingham-Southern conducting

May 13 ,3 pm, Ireland Room, Birmingham Botanical Gardens

A Mother's Day concert of small ensemble works

May 20 ,4 pm, Hill Garden, Birmingham Botanical Gardens

The Red Mountain Symphonic Winds in concert

Harry McAfee of Shades Valley High School conducting

June 25 ,3 pm, in the Steiner Auditorium

Birmingham Museum of Art

"Summer Solstice" - A concert of small ensemble works

---As always, admission is free ---

Did you enjoy today's program?

Contributions are much needed by the Red Mountaineers for the purchase/rental of music and other expenses. A cash contribution would be appreciated. If you have questions, call Suzanne Beaudry at 254-3774. We qualify as a non-profit organization under Chapter 401-C.

Please sign our registration book in the foyer so that we may keep you informed of future RMCO concerts.Thanks.